In the bigger scheme of things, Adware isn't the most dangerous form of malicious software. However, it can end up as one of the most frustrating and annoying!
Unlike trojans and backdoors that seek to gain access to your machine and data, Adware mostly exists to hijack your computer time and redirect your internet searches toward the attacker's advertising pages.
Signs your computer may be infected with Adware:
Errors and software crashes when trying to open a browser like Internet Explorer, Edge, Firefox, or Chrome
Searches do not go to Google
Bookmarks and favorite sites are suddenly missing
Internet will not connect to specific websites
Ads are constantly popping up, even on "safe" websites
Pages and programs suddenly load very slowly
If you think your computer has been compromised, and someone is trying to hijack your web traffic for their own advertising purposes, don't panic! These programs are actually fairly common and rarely do any lasting damage to the computer. It is important, however, to get the problem fully resolved so that the PC can be functional again.
Where does Adware come From?
The best way to avoid unintentional infection of your computer is to be careful about what software you download and install. Many Adware programs claim to be a shopping tool. They'll entice you to install based on promises of coupons, discounts, and other exclusive deals that you can only get with their software. This is almost certainly a lie because for all the decades I've been online, I've never found a legitimate "deal" site that requires you to run their software on your personal machine. These programs may be browser add-ons, toolbars, or even stand-alone software, but they all share the goal of redirecting your web traffic.
Adware removal tactics:
Many Adware programs will uninstall easily through the software and programs section of Windows Control Panel. Unfortunately, they also often leave behind a trail of altered files, registry keys, and DNS servers. Even after the initial software package has been removed, the malicious effects of the adware can persist.
Here at Future Florida Tech Solutions we recently had a customer with that exact experience. Although she had deleted the offending file, Internet Explorer was constantly crashing and all of her search attempts were being directed to a useless page full of ads to questionable providers.
Several anti-virus scans failed to detect any malicious software, but we kept hunting because we could tell it was in there! Eventually, a specialized Adware scanner was able to locate and repair several registry keys.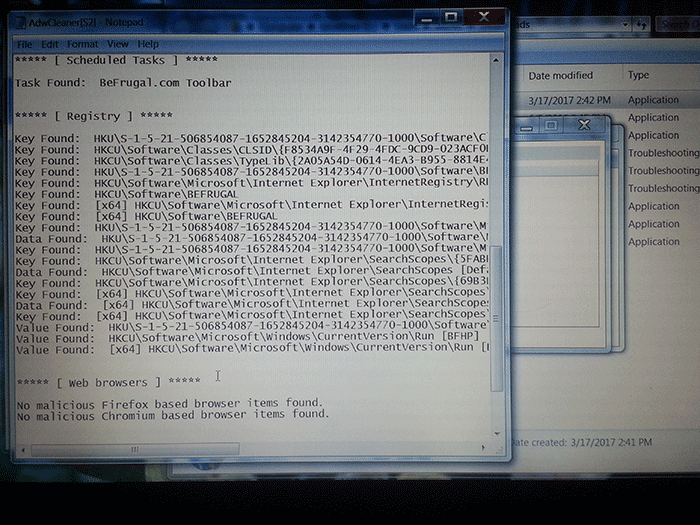 As you can see, the software promised a frugal solution to online shopping – but all they really delivered was a few weeks of frustration, and ultimately a repair bill! If your computer has become unusable due to malware and adware, give us a call! We're here in Jacksonville and ready to help you get your computer back online!